Jeannie let me borrow a picture of ST helping her to make her grandchildren's bed throws. You see he has a pair of scissors in his hand, oops, paw. He was watching Jeannie real good and thought he would give it a try.
I saw these on display in the Christmas decorations at K-Mart. I thought this would probably be to ST, Tiger and Cookie's liking. (Jeannie's cat and mine) Can you imagine what would happen to our Christmas tree if we hung these there? Tiger and ST look for any opportunity to play. In fact I have a lap full of cat right now and he keeps trying to help me type.
He always wants to play, grabbing the string from my sneakers or the drawstring from my coat. Here he is with a mouse which he so generously brought to me as I dressed for work the other day. He is forever playful and probably wondered why I swung my feet up from the floor as I dressed. :-)
This is one of my twin grandchildren playing with her cousin. Cats, dogs and children have the right idea. We need to take time out to play. Her smile is so precious. Your smile is precious to your father too when you take time to play, especially when you take time to play with His little ones. He asks us to be like children.
Enjoy, share, and God bless! For more of God's critters check out
Camera Critters
.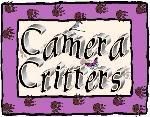 .